[ad_1]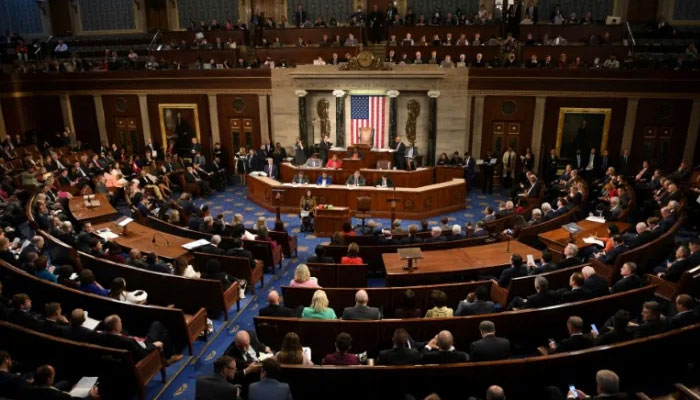 US House of Representatives faces stalemate for second day. 
Speaker was not elected despite six rounds of voting. 
Kevin McCarthy faces tough resistence from Conservatives.
His party's 20 members also deny him support. 
---
WASHINGTON: The deeply-riven US House of Representatives was engulfed in crisis for a second day running Wednesday as fresh rounds of voting failed to produce a winner in the race for speaker.
Conservative hardliners have been blocking establishment pick Kevin McCarthy in a humiliating standoff that has paralyzed the lower chamber of Congress since it flipped to narrow Republican control after the new year.
A faction of around 20 renegade Republicans denied the California congressman a majority in three drawn-out votes on Wednesday — a day after blocking his path in an opening trio of ballots.
Increasingly bitter infighting — described by Democratic President Joe Biden as "embarrassing" — has made the 2023 speakership race the first in a century to require multiple rounds of voting.
The stalemate has left the chamber unable to swear in members, fill committees, adopt rules for legislating or negotiate a path through the paralysis.
The House adjourned until 8:00 pm (0100 GMT) after the sixth indecisive ballot, to allow the Republicans to regroup and settle on a strategy before going back into the fray.
McCarthy — who has raised millions of dollars to elect right-wing lawmakers — dragged his party back to a 222-212 House majority in last year´s midterms after four years in the wilderness.
The 57-year-old former entrepreneur has long coveted the opportunity to replace Democrat Nancy Pelosi, something of an icon in US politics who held the gavel in the last Congress.
But McCarthy´s speaker bid has opened a troubling rift within the House Republicans, with centrists referring to the hard-right faction leading the charge against him as the "Taliban 20."
´Embarrassing defeat´ 
The standoff sparked frantic behind-the-scenes negotiations as McCarthy´s allies sought to cut a deal with his conservative detractors that could also win the approval of moderates.
CNN reported that the rival sides were in talks about setting up a group to break the stalemate, made up of four McCarthy allies and four representatives of the rebel Republicans.
McCarthy meanwhile told reporters in Congress he planned to stay in the race and had spoken to his biggest VIP backer, Donald Trump, who was still supporting his candidacy.
The former president duly called Wednesday for an end to the McCarthy blockade, warning the renegade Republicans not to "turn a great triumph into a giant and embarrassing defeat."
The comments didn´t move the needle at all on the House floor and were curtly dismissed by normally staunch Trump ally Lauren Boebert, who said her "favorite president" had things back to front.
"The president needs to tell Kevin McCarthy that, sir, you do not have the votes and it´s time to withdraw," she said.
No House business can take place without a speaker, the chamber´s presiding officer who is second in line to the presidency, meaning lawmakers-elect have to continue voting until someone wins a majority.
Should McCarthy, who has lost every round so far to Democratic minority leader Hakeem Jeffries, ultimately decide to pull out, the two parties are likely to start casting around for a "unity" candidate — a consensus Republican willing to work across the aisle.
´Squatter?´ 
The Republicans will first consult their own ranks though, where two McCarthy loyalists — incoming House majority leader Steve Scalise and Jim Jordan, a darling of the right — look like the most viable alternatives.
Some of McCarthy´s detractors have taken issue with specific political positions, but many others have just indicated broad distaste for his candidacy.
"Every single Republican in Congress knows that Kevin does not actually believe anything. He has no ideology," Florida congressman Matt Gaetz recently wrote of McCarthy.
The former delicatessen owner has already given away the store to his conservative opponents, agreeing to their demands for change in the way the House does business and lowering the threshold of support needed to oust a speaker.
But not one of them has shown signs of wavering.
Late on Tuesday, Gaetz sent a letter to the Architect of the Capitol complaining about McCarthy moving his belongings prematurely into the speaker´s office.
"How long will he remain there before he is considered a squatter?" Gaetz demanded under an official letterhead.
[ad_2]

Source link