[ad_1]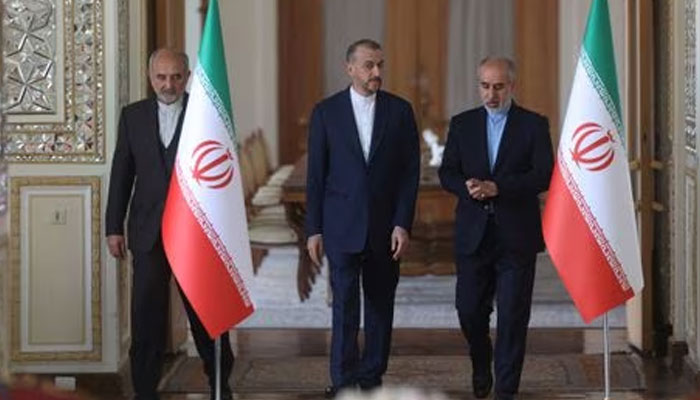 DUBAI: The Iranian government has proposed to Saudi Arabia three locations for a meeting at the foreign minister level, Iran's foreign minister said on Sunday, citing the latest messages with Riyadh since the countries agreed to re-establish ties.
Iranian Foreign Minister Hossein Amirabdollahian told a news conference in Tehran his country had agreed to such a meeting, although he did not list the three locations or say when such a meeting might take place.
Separately, an aide to Iranian President Ebrahim Raisi said that Saudi Arabia's King Salman bin Abdulaziz had invited Raisi to visit Riyadh in a letter welcoming the deal agreed on March 10 to restore ties within two months, after years of hostility.
Raisi "welcomed the invitation," Mohammad Jamshidi, a political deputy at the president's office, said on Twitter without mentioning a timeframe.
The Saudi government's communications office did not immediately respond to a request for comment. Saudi state media has not reported on the letter.
The deal between the region's Sunni Muslim and Shi'ite powers, brokered by China, was announced after four days of previously undisclosed talks in Beijing between top security officials from the two rival Middle Eastern powers.
Amirabdollahian also said Tehran was ready for the mutual reopening of embassies.
Saudi Arabia cut ties with Iran in 2016 after its embassy in Tehran was stormed during a dispute between the two countries over Riyadh's execution of a Shi'ite Muslim cleric.
Amirabdollahian said Iran also hoped steps would be made to normalise its ties with Bahrain, a close Saudi ally that followed Riyadh in severing diplomatic ties with Iran in 2016.
Bahrain, a Sunni Muslim-ruled monarchy with a majority Shi'ite population, has repeatedly accused Iran of fomenting unrest in the island state, which Tehran denies.
"An agreement was reached two months ago for Iranian and Bahraini technical delegations to visit the embassies of the two countries. We hope that some obstacles between Iran and Bahrain will be removed and we will take basic steps to reopen the embassies," Amirabdollahian said.
Bahrain's government communications office did not immediately respond to a Reuters request for comment.
Bahrain, together with other Gulf Arab states, welcomed the agreement between Riyadh and Tehran to restore relations.
[ad_2]
Source link