[ad_1]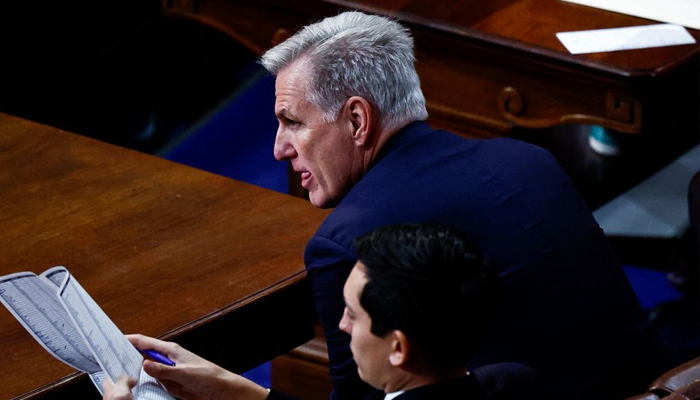 McCarthy received 216 votes in 14th round.
US House last saw this level of congressional dysfunction in 1859.
Right-wing Republican hardliners oppose McCarthy's leadership.

---
WASHINGTON: Embattled Republican Kevin McCarthy suffered yet another embarrassing defeat – his 14th of the week – as he failed late on Friday to secure the votes needed to lead the US House of Representatives after predicting he would prevail.
McCarthy received 216 votes, one shy of the number needed for a victory, as a small faction of right-wing hardliners held out despite his promise of spending cuts and other concessions that had won over many of their colleagues.
McCarthy had predicted victory earlier in the day. "It's going to happen," he said after picking up support in the two afternoon votes.
In hopes of securing enough votes to win, he had called an hours-long recess for the chamber, with lawmakers returning at 10 pm ET (0300 GMT Saturday) for another round of voting.
The result left the House rudderless after a week of repeated votes that highlighted Republicans' divisions and raised questions about their ability to govern. The chamber last saw this level of congressional dysfunction in 1859.
It was not immediately clear what the Republicans' next step would be, but they will need to call additional votes through the night or try again in the coming days.
The caucus could turn to another potential leader, such as McCarthy's No. 2, Steve Scalise or popular conservative Jim Jordan, who was repeatedly nominated as a candidate by hardliners this week.
Republicans' weaker-than-expected performance in November's midterm elections left them with a narrow 222-212 majority, giving outsized power to the right-wing hardliners who have opposed McCarthy's leadership.
They accuse him of being too open to compromise with President Joe Biden and his Democrats, who also control the Senate. Some say they want a leader ready to force government shutdowns to cut spending.
That raises the possibility that the two parties would fail to reach a deal when the federal government comes up against its $31.4 trillion debt limit this year. A lack of agreement or even a long standoff risks a default that would shake the global economy.
Hardliners said McCarthy's offer would make it easier to extract the steep spending cuts they seek.
"We got the things that I think are transformational," said Representative Ralph Norman, one of those who had opposed McCarthy for much of the week.
It needed to be clarified what – if anything – McCarthy could do to win over the remaining holdouts.
Of the 20 Republicans this week who have cast votes opposing McCarthy, 14 received campaign contributions totalling $120,000 ahead of the midterms from the McCarthy-controlled Majority Committee fundraising group, federal disclosures showed.
The failed vote came on the second anniversary of a January 6, 2021, attack on the US Capitol when a violent mob stormed Congress to overturn then-President Donald Trump's election loss.
Several House Democrats said they saw a connection.
"They cannot elect a leader because their conference is held hostage by members who peddle misinformation and want to dismantle democracy," said No 2 House Democrat Katherine Clark in a statement on Friday.
This week's 14 failed votes marked the highest number of ballots for the speakership since 1859.
McCarthy's last bid for speaker, in 2015, crumbled in the face of the right-wing opposition. The two previous Republican speakers, John Boehner and Paul Ryan left the job after conflict with right-wing colleagues.
Wielding the speaker's gavel would give McCarthy the authority to block Biden's legislative agenda, force votes for Republican priorities on the economy, energy and immigration, and move forward with investigations of Biden, his administration and his family.
Proposed concessions
But, according to sources involved in the talks, McCarthy has proposed concessions that would diminish his power and boost the clout of those who have opposed him.
Allowing a single member to call for a vote to remove the speaker would give hardliners extraordinary leverage over him.
He has also offered influential committee posts to members of the group, lawmakers said, as well as spending restrictions that aim to reach a balanced budget within 10 years. The agreement would cap spending for the next fiscal year at last year's levels – amounting to a significant cut when inflation and population growth are considered.
That could meet resistance from more centrist Republicans or those who have pushed for greater military funding, particularly as the United States is spending money to help Ukraine fend off a Russian assault.
[ad_2]

Source link