[ad_1]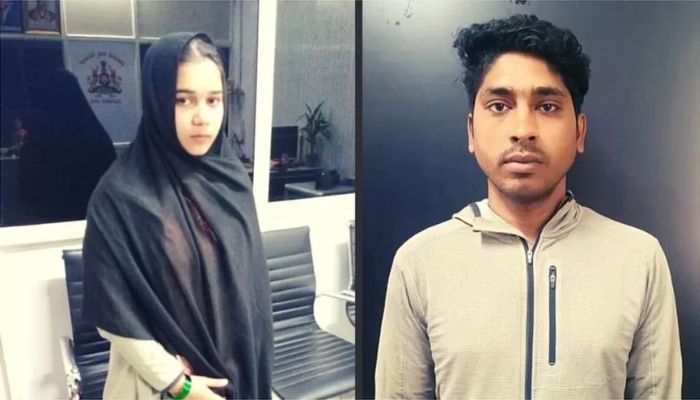 An Indian man was arrested last month for helping his Pakistani wife enter the country without any legal documents and making a fake ID card for her, the BBC reported.
With the two countries sharing an extremely bitter relationship, Mulayam Singh Yadav, now 21, from India and Iqra Jeewani, 19, from Pakistan have an interesting but tragic story of forbidden love.
The young couple met each other online three years ago when both of them were just teenagers. Interestingly, they did not meet through social media but through an online board game Ludo. They fell in love knowing that it would be nearly impossible for them to be together since getting visas to travel can be hard.
However, with Jeewani's family pressuring her to get married, the two decided to get married. Following Yadav's advice, the young woman travelled to Nepal last September where her partner was already waiting. After the two got married, they moved to Bangalore, India, where they started to live together.
However, their happiness was short-lived. In January, Jeewani was detained for entering the country illegally and Yadav was jailed for fraud and forgery.
Last week, the 19-year-old was sent back to Pakistan while Yadav remains in a Bangalore prison.
"We want them home," said Yadav's brother Jeetlal. The man's family supports the couple and believes that the two lovers should not be punished for falling in love.
"We understand the situation between India and Pakistan. But all they did was fall in love," BBC quoted Jeetlal as saying.
On the condition of anonymity, a police official told the outlet that he too believed that the story seemed to be simply of love.
The unique and tragic love story began during the COVID-19 lockdown. At the time, Yadav was working as security guard while Jeewani was a student in Hyderabad, Pakistan.
Though they remained in a long-distance relationship for a couple of years, after Jeewani's family pressured her to marry, she had to leave the country for Nepal. According to the police, the couple got married in a Hindu ceremony.
To stay together with his wife, Yadav arranged a fake identity card for her and took her to India. There, the man would go out to work while the wife would stay home. However, she frequently called home via WhatsApp which led to the end of her love story.
Reportedly, the police authorities were already on high alert last month due to major international events taking place in the city.
"As of now, there is no offence made out against her other than just coming into the country illegally," S Girish, deputy police commissioner in Bangalore's Whitefield district, told the BBC. 
While the girl is now in Pakistan and is reportedly at her home, Yadav's mother hopes the governments can help reunite the two.
"We don't care if she's Muslim or Pakistani, she's our daughter-in-law. We'll take good care of her," she was quoted as saying.
This is not the first tale of love between Pakistan and India. A love-struck woman was caught by Indian police at the Attari Border in Amritsar while trying to cross over to reach Pakistan last June.
[ad_2]
Source link