[ad_1]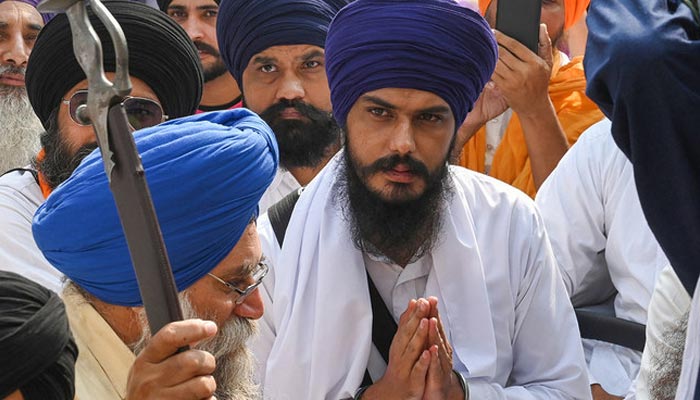 NEW DELHI: A manhunt for a Sikh preacher in India entered its second day on Sunday after authorities shut mobile internet in the whole of Punjab state and arrested 78 of his supporters.
Amritpal Singh rose to prominence in recent months demanding the creation of Khalistan, a separate Sikh homeland, and with his interpretation of Sikhism at rallies in rural pockets of the northern state of some 30 million people.
Last month Singh, 30, and his supporters armed with swords, knives and guns raided a police station after one of his aides was arrested for alleged assault and attempted kidnapping.
The brazen daytime raid in the outskirts of Amritsar — home to the holiest Sikh shrine, the Golden Temple — left several police injured and heaped pressure on authorities to act against Singh.
After the operation began on Saturday, the Punjab police tweeted late in the day that 78 had been arrested in the "mega crackdown".
But Singh himself was not thought to be among them.
On Sunday, there was a major police presence across Punjab, especially in rural pockets and around Singh´s village of Jallupur Khera, local media reported.
The police said that its "manhunt" was ongoing and the overall "situation is under control, citizens (are) requested to not believe in rumours".
Local media reports said that the Punjab government ordered the mobile internet shutdown to be in place until noon (0630 GMT) on Monday.
It was worried that social media could be used to spread rumours and misinformation which could spark street violence.
Authorities frequently shut down mobile internet services, particularly in the restive northern region of Indian Illegally Occupied Jammu and Kashmir (IIOJK).
Punjab — with about 58% Sikhs and 39% Hindus — was rocked by the Khalistan movement in the 1980s and early 1990s when thousands of people died.
According to official claims, the violence peaked in 1984 after a botched raid against a few hundred separatists, some of them armed, inside the Golden Temple headed by the hardline Jarnail Singh Bhindranwale.
This led to the assassination of India´s prime minister Indira Gandhi by her Sikh security guards a few months later, which in turn sparked anti-Sikh riots in Delhi and elsewhere that left several thousand more people dead.
The separatist movement later "lost a lot of support", with its most vocal advocates today primarily among the Punjabi diaspora in Canada, Australia, Britain and elsewhere.
India has often complained to respective governments over the activities of Sikh separatists who, it says, have been trying to revive the insurgency with a massive financial push.
[ad_2]
Source link