[ad_1]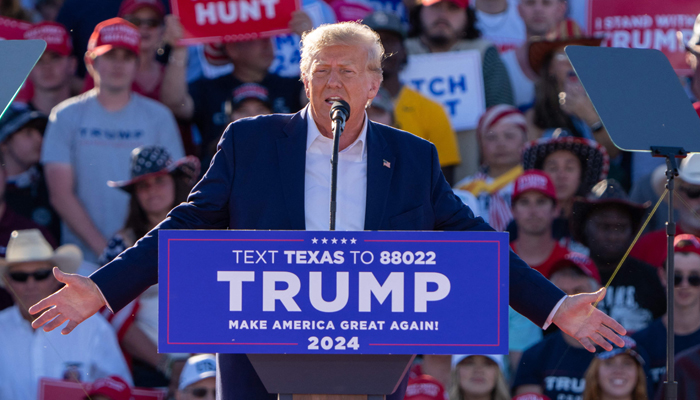 As the speculations of his arrests took hold, former US president Donald Trump's lawyer Joseph Tacopina has said that Trump issued threatening remarks and incendiary statements on mere speculations.
Trump started a countrywide hysteria last week as he announced on his own Social media platform Truth Social that his arrest is likely on Tuesday in a criminal investigation underway in New York.
Authorities increased the security measures of the Manhattan courthouse around the district attorney Alvin Bragg who is leading the case, fearing that a similar on Capitol Hill 2021 occurrence may happen.
While speaking on NBC's program Meet the Press, he said "he [Trump] didn't make it up, he was reacting to a lot of leaks coming out of the district attorney's office, adding "and then there was of course a lot of rumours regarding the arraignment being the next day. So I think he just assumed, based on those leaks, that was what was going to happen."
The Hush money case on Trump has really challenged Trump as he said his every detail has been dissected. Though there were no formal accusations by the court, the grand jury is to meet on Monday (today) to arraign him.
The Manhattan case is at the centre of his presidential campaign of 2024 calling it a "witch hunt" against him.
Last week, his first 2024 big rally in Waco Texas was aimed at his opponents which he said, were "prosecutorial misconduct by radical left maniacs".
Tacopina during his interview did not comment on Trump's rhetoric, saying "he was a lawyer – not a social media consultant".
The lawyer while mentioning the unfair rial said: "This was a personal civil settlement that's done every day in New York City. "This had nothing to do with campaign finance."
Daniels was allegedly paid in the last days of Trump's presidency when she was about to make her and Trump's sexual encounter public. Trump has been vehemently denying the charges against him.
Michael Cohen, who made the initial payment from Trump pleaded guilty in court and served prison for violating campaign finance laws and tax fraud.
As Trump has been criticising Bragg racially, it is feared that it may lead to racially motivated violence.
Donald Trump also said that there would be "death and destruction" were he to be charged.
"If he [Trump] keeps it up it's going to get someone killed," warned Hakeem Jeffries, the top Democrat in the House of Representatives
Calling Trump's rhetoric outrageous, Senator Mark Warner, the Democratic chair of the Senate intelligence committee, told CNN's State of the Union yesterday that the FBI is ready for the demonstrations. He also accused the former president of having "very little moral compass".
The senator also said: "If he spurs on additional violence, it would be one further stain on his already checkered reputation."
He also noted while mentioning the strong case in Manhattan against Trump saying: "Whichever of these prosecutions move forward, I hope whoever moves forward has a rock solid case."
Republicans have also been supporting Trump in his claims of a politicised and "weaponized" prosecutorial system. Earlier a week, three House Republicans demanded Bragg demanding to provide a record of a criminal investigation of Trump which was snubbed by the prosecutor as unlawful.
James Comer one of the signatories told CNN's State of the Union that Bragg had opened "a can of worms", warning this could be retaliated by Republican prosecutors around the country.
"You are going to have county attorneys in red areas, in parts of rural Kentucky where I am, who are going to try to overreach into federal election crime," he said.
[ad_2]
Source link