[ad_1]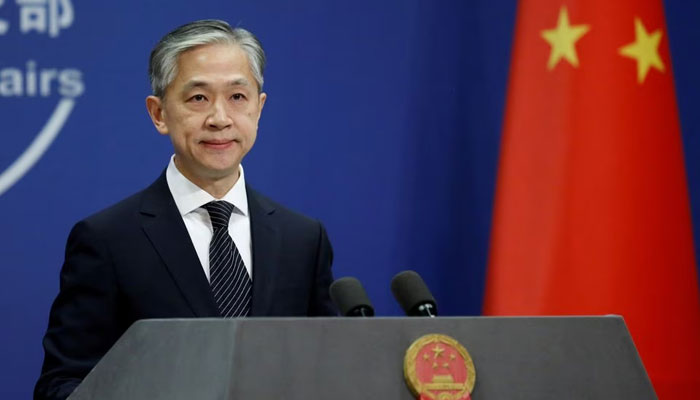 BEIJING: Beijing lashed out on Monday against US claims that China was considering sending arms to Russia to assist in its war in Ukraine.
"It is the United States and not China that is endlessly shipping weapons to the battlefield," China's foreign ministry spokesperson Wang Wenbin said when asked about the US claims.
"We urge the United States to earnestly reflect on its own actions, and do more to alleviate the situation, promote peace and dialogue, and stop shifting blame and spreading false information," he told a regular briefing.
"It is clear to the international community who is calling for dialogue and fighting for peace, and who is adding fuel to the fire and encouraging opposition," he added.
The statement came after US Secretary of State Antony Blinken told CBS in an interview that China was now "considering providing lethal support" to Moscow ranging "from ammunition to the weapons themselves".
He made similar comments in a series of interviews from Germany, where on Saturday he attended the Munich Security Conference and met with his Chinese counterpart, Wang Yi.
Blinken's accusations came as relations between China and the United States were further strained after Washington shot down what it said was a Chinese spy balloon earlier this month.
The United States has repeatedly warned China against providing support to Russia for its war in Ukraine, which is nearing its one-year anniversary.
Appearing on Sunday on ABC, Blinken said that US President Joe Biden had warned his Chinese counterpart, Xi Jinping, as long ago as last March against sending weapons to Russia.
Since that time, "China has been careful not to cross that line, including by holding off on selling lethal weapons systems for use on the battlefield", according to a US administration source familiar with the issue.
In Munich, Blinken and Wang Yi clashed over Washington's shooting down of a Chinese balloon over its airspace.
During their encounter, Blinken "directly spoke to the unacceptable violation of US sovereignty and international law by (China's) high-altitude surveillance balloon in US territorial airspace", State Department spokesman Ned Price said.
He also warned Wang "about the implications and consequences if China provides material support to Russia or assistance with systemic sanctions evasion", Price said.
In turn, Wang Yi told Blinken that their countries' relations had been damaged by how Washington reacted to the balloon, which China has repeatedly described as a civilian craft for weather research that veered off course.
Wang Yi "made clear China's solemn position on the so-called airship incident", and "urged the US side to change course, acknowledge and repair the damage that its excessive use of force caused to China-US relations," state news agency Xinhua reported.
Speaking on Saturday at the gathering of world leaders in Munich, the diplomat had condemned the US reaction to the balloon as "hysterical and absurd".
[ad_2]
Source link